Version: 2.5
Released: 27 June 2017
File size: 1.5 MB

Hardware compatibility
Designed to work with display devices from our partners, softMCCS supports the DDC/CI protocol and is built on the softOSD engine: it can communicate via any host-side graphics controller from AMD, Intel and NVidia, as well as legacy controllers from 3dfx, 3dlabs, ATI, C&T, Cirrus Logic, Matrox, NeoMagic, Number Nine, Rendition, S3, Silicon Motion, SiS, Trident, VIA, VideoLogic, or XGI - over VGA, DVI, HDMI, DisplayLink or DisplayPort interfaces.

MultiRes


iRotate


Monitor Asset Manager


Legacy software

| | |
| --- | --- |
| softMCCS | |
Aiding the development of software controllable displays
softMCCS is a purpose-built diagnostics and compliance application implemented on top of EnTech's next-generation softOSD communications library. As a result, softMCCS is not only the fastest and most efficient tool of its kind - it's also the most compatible. The underlying softOSD engine provides communication through the widest variety of GPUs and is compatible with all x86 and x64 versions of Windows, from the original retail release of Windows 95 onwards.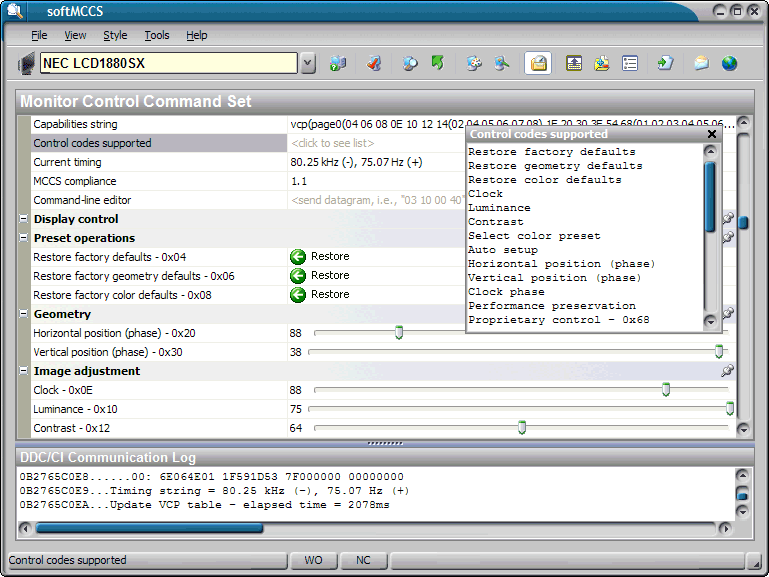 How it works
After establishing effective communication, softMCCS reads each connected display's EDID and MCCS capabilities strings. Within seconds softMCCS presents categorized information, current status and supported controls for each connected display in an easily-recognizable, property sheet metaphor. Beyond it's ability to simultaneously report the status of over 150 VCP code locations in a tested display, softMCCS also provides full control over each supported command and allows individual datagrams to be sent over the DDC/CI channel while viewing raw traffic in an ongoing log window. The speed of the underlying softOSD engine even makes it possible for softMCCS to react, in real-time, to events such as hot-plugging, changes to a tested display's orientation (portrait or landscape), and to synchronize with the use of a tested display's conventional OSD.
Conformance testing made simple
softMCCS also provides a step-by-step wizard to ease compliance testing and generate useful reports for later analysis, verification or improvement of the display's performance. It is the ultimate tool for hardware designers, firmware engineers and other industry professionals involved in the creation of a new class of softControllable computer displays based on the VESA DDC/CI and MCCS standards.