This message can appear in any edition of RapidDriver. It means that device named "RapidDriver Primary Device" (see picture below) is no more available.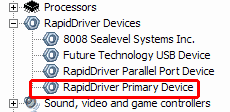 This device is created during RapidDriver installation and is used for internal needs. RapidDriver cannot start if it is deleted from system.

You can fix this problem in two ways:

1. Using InstallPrimary utility. This utility resides in Kernel directory of RapidDriver installation folder. Just type in command line <RapidDriverPath>\Kernel\InstallPrimary -i.